Bimbo Canada, a bakery, engaged Provision, a food industry advisory service, to reduce food loss and waste at its production facility in Montreal, Quebec.
Provision's partner, Enviro-Stewards, conducted an on-site waste assessment utilizing Provision's award-winning Food Loss + Waste Toolkit, based on Enviro-Stewards' approach, and quantified three opportunities for food waste prevention. By implementing the recommendations, Bimbo Canada's Viau facility in Montreal has the potential to realize the following annual savings:
By implementing the recommendations, has the potential to realize the following annual savings: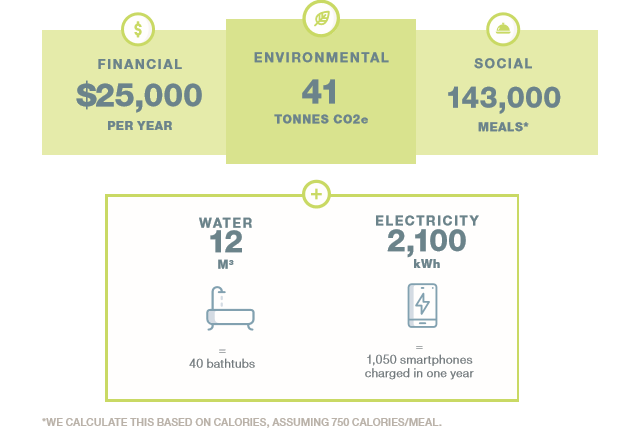 *WE CALCULATE THIS BASED ON CALORIES, ASSUMING 750 CALORIES/MEAL.
"The team that conducted the food loss and waste audit took the time to understand our business and processes to provide the most practical opportunities. As the recommendations were being developed, they also took the time to work with our team to ensure the recommendations made sense and we would be able to implement them. There is definite value in participating in this process and it also helped to identify the success of the efforts we've already made to reduce food loss and waste. "
- Teresa Schoonings, Senior Director, Government Relations & Sustainability
Food Loss + Waste Reduction Opportunities
Opportunity 1 | $15,000 Savings of Bread Toppings
Prevent Loss at New Best Thing Since Sliced Bread

The current machine that drops bread toppings onto the bread is not the most current technology. Replacing the older machines with a newer, more precise machine will result in fewer toppings wasted.
Opportunity 2 | $10,000 Savings of Flour
Prevent Loss at Stop to Smell The Flour-S
On one line, flour was being over-applied due to an opening above the conveyor that was too large. Maintenance will start observing the process and making mechanical adjustments to the flour hopper.
Opportunity 3 | $750 Savings of Bread Buns
Prevent Loss at Sticky Buns
Buns were found to have stuck to trays due to low glaze quality, and then thrown out. Trays with a bun stuck to it can be immediately removed from production and re-glazed to prevent it from occurring again.
______________________________________________
Canada's Food Waste Problem
In Canada, 43% of avoidable food waste occurs in processing and manufacturing, presenting enormous opportunity for manufacturers to take action to positively impact the environment—and their bottom line. Avoidable waste costs approximately $49.5 billion each year, reduces the supply of food available to eat and contributes to climate change through methane emissions in landfill.
Funding for this project has been provided by:

Thank you to our project partners: